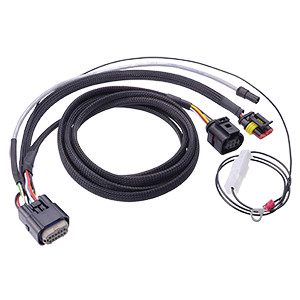 For the proper functioning of an engine management system is a reliable wiring loom required. KMS has several options for this.
One option is to purchase a basic set which contains all the necessary single function wires. These wires are on the sensor side already equipped with pins, only to be made on the cable length. Then, the main plug can be mounted.
Another possibility is to have full custom made basic wiring harness or custom Raychem Loom. It is important to know all cable length in advance. With this info we can manufacture a complete wiring harness including (main) connectors. This harness can directly be installed. In this section you can also find other communication cables, single wires and single function wires, spark plug cables, connectors and tools to create your own wiring loom. 
Scroll down for the full overview of our wiring.